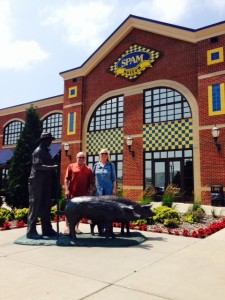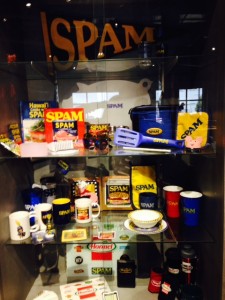 It has been my good fortune to travel many far reaching destinations over my sixty years. The National Park system was the go-to summer jaunt in the '59 Caddie, without air conditioning, for many a summer. Mount Rushmore, Paul Bunyan monument, the Badland's of South Dakota, Yellowstone, Zion, Bryce, the Corn Palace and the Cliff Dwellings are memories I would like to share with my family. I chose to take my children abroad and missed these Americana legendary tours opting for Tour Eiffel, the Great Wall and Piccadilly Circus.
On a current medical journey and with a nod to technology, my far flung family did not have to miss the one and only, American driven, yes it does exist, Spam Museum in Austin, Minnesota! They got text, spam photo ops and fascinating for- your- information tidbits from the museum during our visit. More about reason for a visit to the population 26,000 spam town later lest I digress from the chopped hammy and porky story.
Yes Virginia, there is a Spam Museum. With 44,000 cans of Spam created each hour, Hormel is laughing all the way to the bank! The classic variety is composed of pork shoulder, ham, salt, water, sugar, potato starch and sodium nitrate (to keep the product pink). Unlike most hotdogs, Spam does not contain lips, derriere and other "mechanically separated parts." Makes it all better? Not much is said about the sodium nitrate, it gives me pause. Do remember I am from California, somewhere left of the Milky Way, in this region.
Hawaii ranks highest amongst the states in Spam consumption, downing seven million cans a year. Found in grocery stores, included on the McDonald's menu and featured at high-end restaurants, Hawaii features spam rolls and spam lunch boxes. The Philippines, not to be outdone, offer Spam wedding gift sets, highly sought for over $45.00 American dollars each.
This Californian has not caught the wave yet and though offered a new flavor, hickory smoked Spam, could not indulge. Philip, our local tour guide/my dear friend from good ol' McAllen days Cindy's son, imbibed the meat on a salty pretzel stick and pronounced it SPAM! Something about canned anything turns me off unless it has come from my hearth. I can hear you sighing about the hippies in California!!!
Hear ye, Hear ye! Let it be known there are flavors of potential enticement ranging from Hot and Spicy Spam, Jalapeno Spam to Mac and Cheese Spam. Since there was no kale or spinach Spam in the near future, I'm still out.
What is amazing is the true American ingenuity as well as the entrepreneur ship surrounding this Hormel delight. In the 75 years the dynasty has been producing this canned product, they are proud of the heritage created in the marketplace as well as the support of the United States Military. In a move to create a non perishable use for left over pork shoulder, Spam became a household name for a ration millions of soldiers knew from the Pacific arena to tens of years later in Vietnam.
In a bold marketing move, Jay C. Hormel established the Hormel Girls, a traveling troupe of 60 musical women, to promote Geo. A. Hormel & Co. products. No one had ever seen the likes of a women's drum and bugle corps that toured, sang and sold Geo. A. Hormel & Co. products. I dearly love old preserved movie footage and the museum has a gold mine of dancing, singing and horn playing ladies for the good of the product. Right down to dancing girls with pig masks on. Not saying it works today, just saying it did work and was avant guarde.
The museum boasts an interactive area for the kiddies to see what it is like working on a production line, a wall of 3,500 cans representing a diet for one year and an endless loop conveyor belt with 800 cans of the goodness on a revolving belt representing their "endless loop of deliciousness." Famous chefs from around the globe have weighed in on recipes and the world of ethnic cuisine benefits from the spicy pate.
There is tongue in cheek humor here including the most genial Minnesotan's one could imagine. A child friendly atmosphere filled with bright colors, lots of moving parts and interactive models could interest your young ones for a couple of hours. Meatatarians will need to hurry, the current space will be closed in a few months. A brand new, state of the art Spam Museum will be built in a larger space to accommodate the thousands visiting each year.
Alas, there was not a Spam restaurant in sight. We headed for Culver's, a legend born in Wisconsin in 1984 combining the winning combination of a terrific burger and something called frozen custard, no spam on the menu.