Knights of the Vine Progressive Dinner
Under cloudless blue skies, 70 degree Carmel weather (shhh! don't tell!) and a backdrop of towering pine trees, Troubadours of the Knights of the Vine, progressed through the fabled streets of Carmel in the eternal quest of the finest food and drink.
A progressive dinner could not have featured a better evening weather wise, food wise, drink wise and KOV wise! Our cadre had gathered to enjoy the first of three Pepe International restaurants in Carmel.
The afternoon began on a rooftop in downtown Carmel's infamous Vesuvio restaurant and Starlight 65 bar. Two bars stations laden with mixed cocktail samplers, Il Blu Prosseco chilled to perfection and a tequila shooter with raspberries and jalapenos that really stole the show, were just the beginning! Crab cakes with chipotle aioli and arancini di riso, which sounds so respectful as o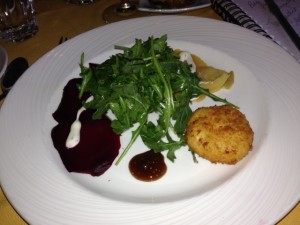 pposed to fried rice balls, were passed with abandon.
Our host for the evening, Chef Rich Pepe, restaurateur and local politician welcomed our band of merry men and women past the hundreds of signatures on his wall of stars on the way to the roof bar extraordinaire. Hats of all fashion and dark glasses graced the domes and eyes of many, as Carmelites and Monterey Peninsulan's in general, are not used to outrageously sunny days and outward appearances of summer so early in May.
Prosciutto and melon, mozzarella basil folds with sweet cherry tomatoes and mini meatball lollipops helped fortify the troops for the long walk downstairs to Vesuvio's main dining room and the Primo course.
A luxuriant bell pepper gazpacho arrived just before the warm Sonoma goat cheese and roasted heirloom beets. A riot of golden and dark red slices of earthy comfort food covered mixed field greens and fig-balsamic reduction. Large baskets of fresh warm bread appeared with cheese and garlic liberally applied. Tables were dressed with sunny summer yellow cloths and rich deep burgundy accents.
All this joy was pared with Pepe Napa Valley Chardonnay 2011 and Knights of the Vine lore from our table host, Terry McCleery and his wife Linda.
Fearless Knights and Gentle Ladies readied for the trek to Pepe's Little Napoli while being serenaded by the strains of Pied Piper, Mike Marotta's accordion and melodic voice. The cheery crowd gathered smiles and friendly greetings from all on Ocean Avenue as we filed past visitors and locals alike.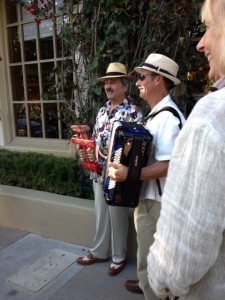 Where Pepe is there is usually a drum roll and the family wine served with the dinner deserved that honor. A blend of 60% Sangiovese and 40% Malbec it is the newest addition to the wines made by the Pepe family with grapes from Napa Valley's Atlas Peak Appellation. Rich with the flavor of black cherry and spice, it paired well with large individual platters of Marinara, Alfredo and Pesto sauces covering delicate cannelloni chock full of vegetables, chicken and pine nuts. Generous portions accompanied many back home for a late snack or lunch the next day!
With no room to spare, dessert was served in the corner bar of Vino Napoli with huge windows facing the street, sports on the television and fires burning brightly. In convivial groups of six at round high top tables, we enjoyed a terrific rich, dark and dense chocolate mousse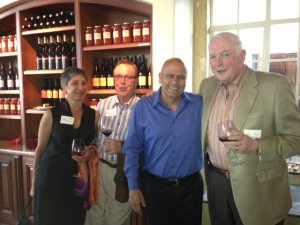 cake, macaroons and wicked brownies. A Vin Santo, Florus Tuscany was served. Made in the style of the greatest Vin Santo literally "holy wine" originally used in the Mass, the grapes destined for Vin Santo are harvested in September or October. Laid out on straw mats, often under rafters or staircases, they are kept in warm, well ventilated rooms that allow the moisture in the grapes to evaporate . This process of desiccation allows the sugars in the grape to be more concentrated. Deep and gold in the glass, Florus' aromas are complex with offerings of honey, flowers, orange zest, caramel and nuts.
A fitting ending to an evening of wine, song, sunshine and a memorable progressive dinner.