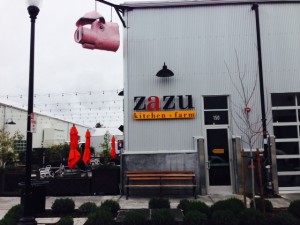 The farm to table concept of food production and restaurant life- style was chronicled by liberal foodie Michael Pollan in The Omnivore's Dilemma, first published in 2006.  I read this terrific  book and was intrigued  by his explanation of agri business and food production in the United States and the world, has been taken from the actual person creating the food, the farmer, and given to big business.  Pollan blames Washington for the mechanization and factory farming and presented arguments urging the organic farm to fork movement to rally arms.  Local food for local folks makes sense to me.  Our carbon footprints have been exposed for the folly they have become; Fiji water in Kansas?  Really?  Enter Zazu.
Sebastopol, part 2, involves the epitome of farm, vineyard and bacon to me!  The die-hard vegetarian has tofu, seitan or other pretend meat that tries desperately to taste, smell and feel like bacon.  It must be a primal smell, bacon cooking in the pan not only brings the dog to the kitchen, nose high in the air in hopeful ecstasy, but man woman and child, risking life and limb to snatch a piece while the eggs cook!  Zazu has created a farm to fork empire in an industrial area replete with many fascinating stores selling local crafts, food and wine.  Billowing rectangular flags and a bigger than life cartoon pig guides us into lunch on a rainy day.  We had no idea that two hours later we would leave sated yet wanting more.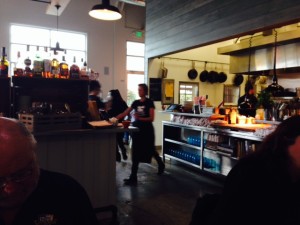 A convivial group greeted our arrival on an overcast March afternoon at Zazu.  The casual atmosphere with generous seating, an open view of the bustling kitchen and  an honest welcome by Alyssa, our server for brunch, conveyed a great beginning.  Blue Ball Mason jars were set on the table with water and soon arrived the ordered Triennes Rose.  A Provencal' rose from near our home in the South of France, this rose' with hints of strawberries, vanilla and summer flowers, began our ZaZu journey.  The exterior industrially grey building belayed the fun yellow bar stools at the center of the room and the mixologist shaking, stirring and dancing to the tunes with the  next beverage gyrating with him.  We were entertained and a good thing as well.  Zazu is not a fast food joint in every sense of the term.  Enjoyment of the food as well as companionship at the table is foremost.  On a daily basis, these important necessities are over looked with rough work schedules, family obligations and general rat race of life in the middle to fast lane.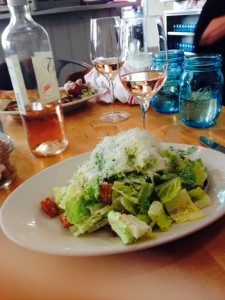 Our adjacent table was served the breakfast pizza.  A generous plate with the signature bacon and farm fresh eggs atop.  I opted for a Caesar salad.  This is not my mother's Caesar!  Crisp fresh romaine, grated dry jack and croutons that will make you cry for more!  Alan ordered the bacon and egg Panini with a side of German style potato salad.  We did leave some room for dessert and hand crafted gelato with three flavors won the prize.  A vanilla bean, rich in flavor and texture, earl grey tea and lavender sugar, subtle and elegant and the taylor maid espresso bean for a kick of flavor rounded out the trio.  Alyssa talked us into a glass of Pink Pig Brut Rose of Pinot Noir to tickle the palate.  This delightful bubbly is made for Zazu by Thomas George Estates, stands by the restaurants philosophy of finding ingredients as close to the restaurant as possible.   Hail the farm to table experience.
We left Zazu with a rasher of the incredible bacon packed in ice.  This bacon is made in the "slow bacon" process.  It is cured with brown sugar and smoked with real apple wood which takes over a month.  It is quality not quantity that send the chefs Duskie Estes and John Stewart to the top of class!  You cannot get more local than Zazu in Sebastopol, CA.