ONLY TWO HOURS FROM MONTEREY AIRPORT
A CARD DEALING LADIES MAN DESERT HIDE A WAY
LON'S AT THE HERMOSA
 LEGENDARY STEAK HOUSE AND HOSTELRY IN SCOTTSDALE ARIZONA
"I see your $500 and raise you $1000" boastful utterances preceding the hurried escape east thru underground desert tunnels.  Law enforcement officers hot on the trail of card sharks and whiskey drinkers at Villa Hermosa were hell bent on keeping gambling and booze out of Arizona's jurisdiction.
A cowboy, a loner, a desert artist Alonzo "Lon" Megargee, a native Philadelphian, provided this means of escape in his self designed 1930's Phoenix desert retreat, Villa Hermosa.  He loved ranch life, horses, painting and women.   Commissioned by the first Arizona Governor Moeur, in 1936 to create murals depicting traditional Arizona life and landscapes, avant garde  Lon created "Irrigation". The painting pictures the scantily clad figure of a woman standing astride an irrigation ditch holding an urn of water and wearing a crown of oranges in her hair. In its day, "Irrigation" was considered too risque and was not well received. In fact, an Arizona Gazette article announcing its arrival said only "[The painting] shows an irrigation ditch surrounded by fertile fields and in the rear a mountain range." It was as if the woman Lon had painted did not exist!
Only two hours by air from the Monterey Peninsula airport and a short cab ride, Lon's at the Hermosa is the house architect/artist Lon built in Paradise Valley. With twelve resorts in 15.5 square miles, Paradise Valley is one of Arizona's premiere tourist destinations.  The legendary steak house and upscale hotel caters to present day girlfriends and wives including a wine program recognized by the Wine Spectator Magazine with its Award of Excellence continuously since 1996.
Start with a weekly cocktail special from at the Last Drop Bar!  Travis Nass, your Spirit Guide will serve a garden-fresh Grapefruit Basil Cooler: freshly muddled grapefruit and garden-fresh basil mixed with fresh grapefruit juice and vodka.  Andrew Quinn, host and master storyteller, paints the 30's with stories of the art, the women, the whiskey, Lon and recent haunted sightings! Stroll through the organic gardens at sunset and imagine a time, with quiet time, to paint and enjoy friends in the shadows of Mummy Mountain, Camelback and Piestewa Peak.
The western décor is homey and carries the air of desert elegance. Chef Jeremy Pacheco and his staff use locally grown and Arizona made product.  The $75.00 per person tasting menu ($35.00 supplement for wine pairings) begins with garden crudités.  Mas de la dame"rose du mas" from Provence gives the veggies from the organic garden a partner. The rare grilled strip loin next to a creamy celery root potato puree and a Penalolen Cabernet creates Arizona beef perfection.   End the dinner with a white chocolate hazelnut torte, side of kumquat jam and champagne sorbet.
Or steer towards the complete al a carte menu with the not-to-be-missed truffle goat cheese macaroni side at $13.00.  Three little pigs is a short symphony of bbq loin, braised cheek, crisp belly and a delicate bok choy and cider jus $29.00, divine bovine!  You can sear your own Ahi from pink to done, right in front of you, on a natural salt rock.  A novel approach to cooking!
Underground Dining in the LON's wine cellar will explore Chef Pacheco's new four-course menu monthly and is based on seasonal foods $125.00,  including pairings with Arizona wines.  The cellar is the site of the underground escape tunnels used by rowdy guests when the law came calling!
Desserts created by Trevor Tucker are worthy of photos with a creation they call a "Candy Bar" still lingering in my culinary memory.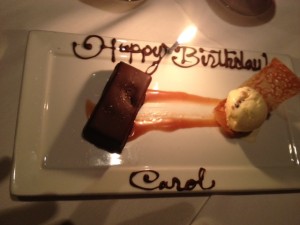 As you leave the Western décor and head towards the crisp desert evening, if you are very quiet, you might hear the laughter of the early days and imagine the run for the hills after a raucous game of chance.
The artful experience of the Megargee murals, silver platters, and entire silver collection, are part of the permanent collection at the Arizona State Capitol Museum.